If you wander into your local tackle store to kill a bit of time, give a bit of thought as to how all the products appear — as if by magic — on the pegs. Some are legacy items, tried and tested, been there forever and some are new fan-dangled gizmos.
Designers, manufactures and importers all play a part in the supply chain. No mater what category the product fits, quality is the most important attribute, as well as value.
It's is a huge undertaking to get a new product released. Lots come and go and the big brands get it wrong sometimes, in a big way.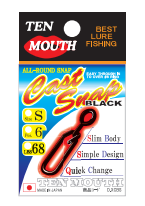 I admit that the most needed product on our pegs has always been a range of swivels and small connectors. That's because of scarcity of supply, not lack of interest on my part. We have always imported swivels from the USA, but have struggled to get a complete range for New Zealand applications. The same goes for split rings. Power Jig do the best heavy ones but the lighter models were always a bit of a compromise. And lure clips or snaps (all them what you will — they're used for connecting lures to the end of your leader) have always been a mixed bag.
Now the good news: problem solved. We now stock NT Swivel and Ten Mouth from Japan, filling all the gaps and providing solutions for connections and swivels (and just about every piece of quality terminal tackle we've ever struggled to find). That's 89 connection products, all made in Japan, from stainless steel and brass. They have huge breaking strains but are not burdened with the bulk of some models.
If you are averse to retying knots when changing lures, or have a niggle in the back of your mind about split-ring and swivel quality, you can rest easy now.